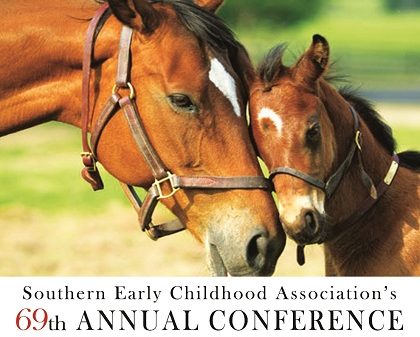 March 1-3, 2018
Hyatt Regency – Lexington & Lexington Center
Lexington, Kentucky
Every child needs a champion. At this year's Southern Early Childhood Association Conference, you can network with fellow early care and education colleagues, listen to prestigious speakers, attend educational sessions, and much more.
Keynote speakers are Dr. Iheoma Iruka, Don Monopoli, Maurice Sykes, Mary Jo Huff, and Lisa Maddox-Vinson.
Breakout Session Topics

advocacy
engaging young children with autism, disabilities or PTSD
classroom environments
classroom power struggles
conflict resolution with staff
cooperative challenges and conflict-resolution for toddlers
collaborating with families
early brain development
early developmental screening
emotional intelligence
home visits to rural families
involving fathers
language development in infants and toddlers
literacy strategies
music for kids
natural sensory experiences and outdoor learning
outdoor play spaces and designs
preschool mathematics
problem-solving with kids
seminars for directors and trainers
strategies for fostering resilience and mindfulness in children
supporting breastfeeding families
toddlers and emotions
vocabulary
yoga, martial arts and creative movement for children

and much more…
Activities also include exhibits, a silent auction to benefit the Janie Humphries Student Leadership Development Fund, tours of Lakeshore Learning Materials and Central Kentucky Riding for Hope (equine therapy), and a bluegrass reception. Earn CEUs for attending.
Hurry! Registration ends February 20th.