19 Programs Receive Toolkits to Support LMCC Action Plans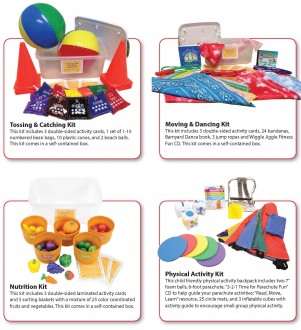 In celebration of the 4th anniversary of Let's Move! Child Care (LMCC), the Packard Foundation partnered with LMCC and Nemours Children's Health System to award toolkits to support early care and education (ECE) providers in improving healthy eating and physical activity. These toolkits include resources and materials to directly support the LMCC Action Plans of these ECE centers and homes. The toolkits, supplied by Kaplan, are each valued at over $100 and will be a great help in achieving steps on the winning ECE providers' Action Plans.
ECE programs were invited to develop an LMCC Action Plan online between August 17th and September 18th for a chance to win toolkits. In total, 309 programs completed Action Plans, and 19 programs–nine child care centers and ten family child care homes–were randomly selected as winners. The toolkits were created to help programs meet healthy eating and physical activity best practices, such as: making drinking water readily accessible; serving all meals to preschoolers family style and encouraging children to serve themselves with limited help; providing infants, toddlers and preschoolers more opportunities for active play; reducing screen time; and providing breastfeeding mothers access to a designated area for breastfeeding or pumping, with appropriate seating and privacy.
Thank you to the Packard Foundation for providing funding, Kaplan for providing the toolkits and all the ECE programs who participated.
Congratulations to these 2015 LMCC Action Plan Winners:
Barb's Daycare in West Fargo, North Dakota
Candie Land Daycare in Anderson, Missouri
CAP of North Alabama in Moulton, Alabama
Childcare Network #174 in Fort Worth, Texas
Children's Corner Preschool and Kindergarten in Van Nuys, California
Cuddletime Daycare in West Lafayette, Indiana
Deering Ridge Daycare in East Waterboro, Maine
Dreams Family Child Care in Shoreline, Washington
Early Connections in Union City, Pennsylvania
Jackson Child Care in Springfield, Virginia
Kiddie Garden in Swanton, Vermont
Kids First Child Care Center in Ladysmith, Wisconsin
Little Flower Educational Child Care in Los Angeles, California
Maryvale Early Education Center in Rosemead, California
Mercer Creek Childcare Center in Ellensburg, Washington
Mississippi Band of Choctaw Indians in Choctaw, Mississippi
Mrs. Patty's Daycare in Kent, Washington
Nanny's Care in Kirkland, Washington
St. Anne's Children and Family Center in Spokane, Washington