Winter Outdoor Activities in Alaska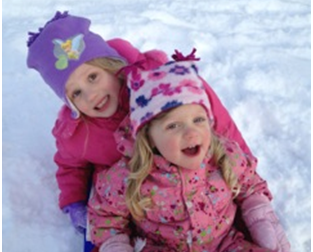 Kamie Miller, owner of Kamie's Kid Kare in Eagle River, Alaska, was determined to increase the variety of physical activities for children in her child care program.  In March 2013, she signed up for Let's Move! Child Care (LMCC) and worked closely with the Alaska Child Care Resource and Referral Agency known as "thread" to increase the amount of time children at her day care spent in physical activity. She completed the LMCC checklist quiz, an action plan and a self-study training course that assists providers in achieving the five LMCC goals (serving healthy food, serving healthy beverages, increasing physical activity, decreasing screen time and supporting breastfeeding).
As a result of the training, Ms. Miller learned new creative ways for the children to enjoy being outside in the winter time—even in Alaska where the weather can be a deterrent.  For example, Ms. Miller set up a tunnel in the snow and when children would crawl through the tunnel, they would sense the snow and related sounds in a different way. She found that hula hoops and balls work just as well in the winter. As part of her preschool program, Ms. Miller also takes the children on weekly field trips and has daily outdoor time. Ms. Miller noticed that the children were much happier and, when she had structured games, the children wanted to stay outside longer.  Ms. Miller also shared resources with parents and encouraged them to take their children ice skating, sledding and hiking.
When asked about her experience, Ms. Miller stated, "It was nice to talk things over with staff from 'thread'. They guided me through the process of the LMCC training and gave me ideas for outdoor play."