Arlington Christian Academy: Expanding Outdoor Learning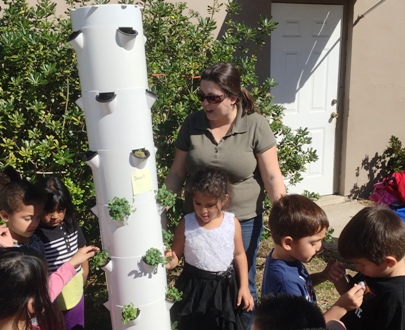 Arlington Christian Academy is participating in Nemours' National Early Care and Education Learning Collaborative, a childhood obesity prevention program funded through the Centers for Disease Control and Prevention. As part of this collaborative, the program is building an outdoor classroom where children will have the opportunity to not only learn about growing food but also to increase their consumption of fruits and vegetables by eating the produce that they harvest throughout the year.
Atlantic Beach Urban Farms approached Kelli Allen of Arlington Christian Academy about providing them with a vertical aeroponic tower, to which Kelli replied "absolutely!" Atlantic Beach Urban Farms, a farm with 300 indoor aeroponic towers located in Atlantic Beach, Florida, then donated a commercial tower along with seedlings to Arlington Christian Academy. Their resident farmer helped the children install and plant the tower. She trained staff on the care of the tower and is available to them for technical assistance. The tower was planted with 28 seedlings that will be ready to harvest in two to three weeks.
Kelli said: "The kids are so excited about the garden tower. From the moment it got here it really peaked their interest and curiosity. They enjoyed helping plant it and they love how fast everything is growing. We are so excited to try the vegetables. Some of the kids have even tried the baby kale leaves and liked them!!"
According to Tracie Westbrook, Founder and Chairman of Atlantic Beach Urban Farms, "This is what it's all about! Grow here Give back. We were thrilled to install the tower at Arlington Christian Academy and were excited to learn about their participation in Nemours Early Care and Education Learning Collaborative. Our team is passionate about sustainability, the health of people and our planet. We live here, grow here and support initiatives that empower people of all ages and abilities to take back control of their food and live healthier lives."