Beachwood Improves Breastfeeding Practices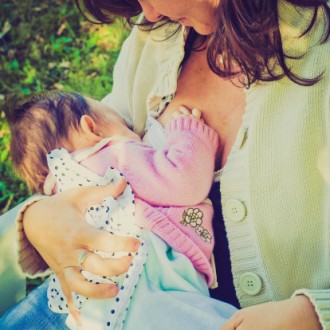 Michelle Newman, Owner and Director of Beachwood Nursery School in New Jersey, says that though her center had an established breastfeeding policy since opening an infant/toddler/twos program in 2010, it was not until she began participating in the National Early Care and Education Learning Collaboratives Project (ECELC) that her center extended their support for breastfeeding.
Some policies have always been in place, and the center always accommodated breastfeeding mothers. This support included encouraging mothers to breastfeed on their breaks and/or lunch if it was convenient for them. Beachwood Nursery School invited mothers to sit in the infant room if they preferred to breastfeed at the school. They also established a policy on storing breast milk separate from formula in a different refrigerator. This year, a mom stored her frozen breast milk supply for her baby, leaving enough for 1-2 days. The teachers would then thaw it following appropriate guidelines. Michelle says, "All the staff at Beachwood Nursery School receive training on our breastfeeding policies including preschool and prekindergarten teachers, because we feel it is important for all staff to have at least a general understanding."
One great success story involves the center staff. Two years ago, one of the pre-k teachers had a baby in October. When she returned in January, she continued to breastfeed her son. Together, Michelle and the teacher were able to work out a schedule that accommodated her son's feeding schedule. The teacher would come in a few minutes early before her scheduled time so she could breastfeed, breastfed during her lunch break, and was able to feed him one more time before they headed home. Beachwood has since had other teachers return from maternity leave and continue breastfeeding.
One of the biggest changes coming soon to Beachwood is the creation of a private space for nursing. Michelle Newman is vacating her office to create a calm and peaceful space for mothers and babies. The space could serve as a parent-teacher meeting room, but she thinks leaving this area for breastfeeding is more important.