Bright from the Start Supports Wellness Policies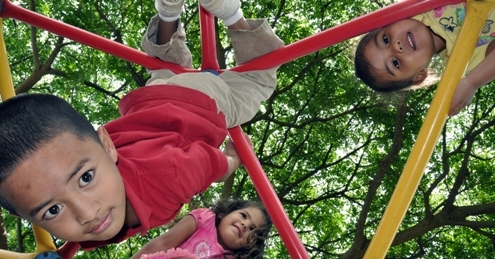 The Georgia Department of Early Care and Learning (DECAL) developed a program called Caregivers Promoting Healthy Habits (CPHH) with funding from a 2009 Team Nutrition Training Grant. The grant was again rewarded to Bright from the Start in 2011 and 2013 to continue and expand the program's efforts. The program aims to improve the nutrition and physical activity practices in child care centers through the implementation of a wellness policy.
Bright from the Start supports child care centers through training, technical assistance, and funding to implement wellness policies. Participation in the program is voluntary, and the centers have to choose at least 6 to 8 of the following wellness policies:
foods served to children meet the Dietary Guideline recommendations;
children always have access to safe drinking water and are encouraged to drink water throughout the day;
nutrition and physical activity education are included in the weekly curriculum;
physical activity is scheduled to meet the National Association for Sport and Physical Education
guidelines for young children;
breastfeeding is promoted and adequately supported;
caregivers practice responsive feeding and encourage children to try new foods;
food is served family-style and children participate in mealtime activities;
food and physical activity are not used as incentive or punishment;
families are partners in the task of fostering healthy eating and physical activity habits for children;
sanitation, hygiene, and food handling are monitored to ensure a healthy environment;
screen time is limited and includes only commercial-free educational programming;
sedentary activities are limited, and children have frequent opportunities to move freely;
staff model healthy nutrition and physical activity habits for children;
staff is adequately trained about nutrition and physical activity for young children.
DECAL staff supported the centers through technical assistance and four quarterly trainings on nutrition and physical activity best practices. Centers were also educated about Let's Move! Child Care and encouraged to become a participating center to receive Let's Move! Child Care resources.
For the family engagement policy, centers are asked to share the wellness policy with all families; provide family handouts, brochures and/or newsletters that include nutrition and physical activity information at least twice per year; and encourage families to provide healthy foods (if allowed to bring foods for sharing).
Evaluation of the 2009 and 2011 programs found significant improvements across participating child care centers with regards to nutritional practices and physical activity. There were statistically significant improvements in the reduction of total fat, saturated fat and calories in meals served, as well as a decrease in the servings of fried and pre-fried foods. Results also indicated an increase in lower fat milk, vegetable and lean protein consumption. Child care centers also demonstrated improvements in the time allotted for physical activity, and therefore, decreased screen time.
Bright from the Start is a winner of the 2015 Let's Move! Child Care Recognition event at the 2015 National CACFP (Child and Adult Care Food Program) Sponsor Association Conference.