Church Cooking Camp Inspired by ECELC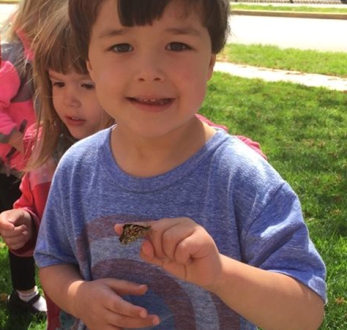 While attending the ECELC Healthy Eating Learning Session, Lisa McCleish, the Director of Early Childhood Programs at the Country Club Christian Church in Missouri, created a fun idea called "Cooking Camp!" The program's philosophy includes planning experiences for children to be actively engaged in their learning.
In the Cooking Camp, the children will choose to join the activities based on their interests and readiness. For example, children will have the opportunity to draw fruits and vegetables or other healthy recipe ingredients if they love art. In the dramatic play area, they will be able to set the table, cook and serve healthy "play" food and beverages and also enjoy family style dining as they see it. In the literacy center, children can create cookbooks or an individual book about their experiences with healthy eating and beverages.
In addition to the Cooking Camp, many of the discussions shared through the learning session and staff training will be incorporated in other weekly camps that have been offered in past years. For example, the Music Camp has evolved into Music and Movement Camp and will now offer additional ways for children to be active. They will also have a Camping Week, where they can explore nature and the benefits of being outdoors. The campfire treats will also be tweaked to include healthier options.
"We are grateful for the opportunities to engage with programs who offer a variety of models of delivery. Through the Early Care and Education Learning Collaborative, our program has discovered ways to improve snacks and offer the meaningful skills children need to be successful."