Creating a Healthy Environment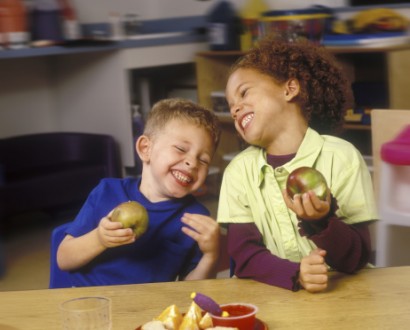 The Director of Miramar United Methodist Preschool in Florida, Marleni Brant-Pomare, knew she wanted to create a more healthy environment and increase learning about nutrition in her child care program. She received assistance and nutritional classroom materials supplied by various vendors free of charge. Brant-Pomare was insistent on making sure each classroom was provided with enough materials to support healthy learning.
Each class had posters, bulletin boards, plastic vegetables and fruits, books and materials that promote physical activity and nutrition. To enhance their lessons, staff began talking more with children about nutrition, using the materials provided.
The program held an Open House as a way to increase family participation. During the event, healthy foods were served to display foods the children were eating at mealtime.  "The parents' feedback was great, and they loved the idea so much they agreed to continue to promote healthy eating at home," Brant-Pomare shared.
"It's such a good feeling to have this opportunity and push ourselves to do more every day. We know it's not easy and it will take some time but it's worth it for our children," Brant-Pomare added.