Culinary Workshop Trains School Chefs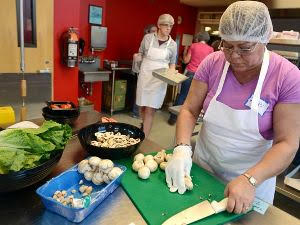 This spring, 25 chefs and staff from school and childcare center kitchens throughout Oregon participated in a culinary workshop at the Salem-Keizer School District's Food and Nutrition Services facility. The group was split up into teams and tasked with producing a complete meal that met high standards for both taste and nutrition.
The workshop was sponsored by the Oregon Dairy Council as an opportunity to train chefs and kitchen managers with nutritional guidelines and provide recipes to bring back to their students. The workshop was led by registered dietician and chef Garrett Berdan, who is also a child nutrition specialist with the Oregon Department of Education. His work with school nutrition programs has been honored by the White House
Berdan gave each group a different recipe. For instance, Team 2 was given a mega-cheese muffin, and mushroom and beef tacos. Team 4 was assigned beef and broccoli rice bowls, and pear and farro salad. He gave a tour of the facility and basic instructions. Then he let them loose, giving them two hours to complete the meals for a lunchtime tasting. The five teams worked diligently in the crowded kitchen, chopping vegetables and mixing ingredients.
The assigned recipes were enough to draw some participants out of their comfort zones. Some were also challenged with providing healthy choices, like using whole grains and seasonings other than sodium. Anne Goetze, Director of Nutrition Affairs for the Oregon Dairy Council, said, "For some I'd say it's new, but not radically different. They're just learning new skills. When Garrett plans this, he does it with the perspective that they can do it in their own school kitchens," she said.
This workshop was the third attended by Leslie Collier, Food Service Manager at Tenas Illahee Childcare Center in Siletz, Oregon. Every time she comes, she learns fun recipes that the children at the center enjoy. "Porcupine Slider" sandwiches include ground turkey, spinach and cranberries. "I always have been able to implement the new menus," she said. "It's an incredible way to get them to eat vegetables without knowing it."