Embracing Different Cultures in Fairfax County, Virginia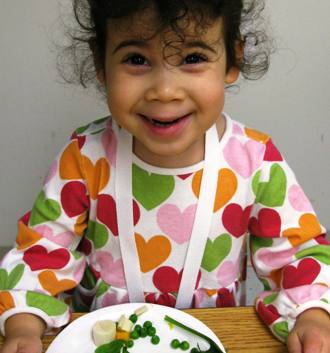 In Virginia, the Fairfax County Public Schools (FCPS) Family and Early Childhood Education Program/Head Start (FECEP/HS) has grown 60% in the last ten years. The program has diligently worked to serve the increasing number of students and families, who come from a wide variety of cultural backgrounds. Across the FECEP/HS centers, 35 different languages are spoken. Nutrition staff help address the challenge of serving a diverse population through a variety of ways:
Two of the staff members are able to serve as Spanish interpreters (ensuring that all nutrition education events offered to families are bilingual),
another staff member speaks Arabic,
and they have a contract with a local interpretation organization so that nutrition counseling can be made available to all families.
The FECEP/HS program firmly believes that parents are a child's first, and most important, teacher. Therefore, they work to ensure that FECEP/HS parents are provided numerous opportunities to gain nutrition knowledge. Every month, the program provides at least one nutrition education opportunity in the form of grocery tours or cooking classes. The tours allow nutrition staff to personally take families through a grocery store and assist families in learning how to read food labels and save money on seasonal produce. Cooking classes allow nutrition staff to discuss healthy cooking options and techniques and how to incorporate MyPlate into meals. These opportunities are provided in a different area of the county each month and at different times of the day to give parents numerous opportunities to attend.
Each year, nutrition-based meetings are provided to families to allow the nutrition staff the chance to discuss the importance of incorporating family-style meals at home, physical activity as a family, and planning out meals to save money. Family breakfast happens two times a year in each classroom where teachers invite parents to eat breakfast with their student. These parent breakfasts often will have a hands-on food activity to support eating a healthy breakfast.
FECEP/HS is a winner of the 2015 Let's Move! Child Care Recognition event at the 2015 National Child and Adult Care Food Program (CACFP) Sponsor Association Conference.