A Garden at Kettle Moraine YMCA Early Learning Center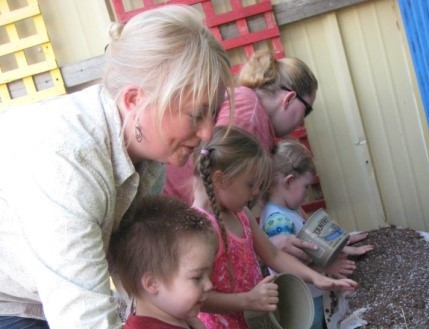 In the outdoor play space at Kettle Moraine YMCA Early Learning Center in Wisconsin, a Little Tike's kitchen stands, covered in vining flowers. Tomatoes, carrots, peppers, peas, sweet corn, and sunflowers grow nearby. Children, three to five years old, are invited to come and help with planting, watering, weeding and harvesting. Educators enjoy sharing the garden's many teachable moments with the center's 36 students, including the chance to taste-test new veggies.
Kettle Moraine YMCA Early Learning Center's garden started in a space of just six square feet, when the center bought a two-by-three foot indoor greenhouse for students to start seeds in their classrooms. Parents donated seeds and compostable plant containers, and they were off and growing. "We decided to start the outdoor garden so the plants would continue to survive past the size they could reach in their indoor pots," Melissa Kescenovitz, the center's lead teacher and coordinator, shared.
In addition to the modified Little Tikes Kitchen, the center has a four-by-six foot in-ground garden, and a four-by-four foot raised bed. "We try to do unique varieties of food that are not served at lunch so the kids have the opportunity to eat different things," Kescenovitz explained. "I'm hoping that the kids can start healthy at a younger age and that they can have the opportunity to taste different things. This is when they're starting to develop those tastes that hopefully will stick with them throughout their lives."
Parents are taking notice, too. According to Kescenovitz, "Many students are excited to tell their parents what they got to do or what they picked in the garden," Kescenovitz said. Students also enjoy making the choice to taste the garden produce and seeing the plants grow up from tiny seeds. Each educator at Kettle Moraine YMCA Early Learning Center is given the opportunity to attend a "Got Dirt?" Garden Training, which are hosted periodically at the Public Agency Center in West Bend. "Our raised bed even came from a 'Got Dirt?' training," Kescenovitz said. "One of our teachers won it and donated it to the center."
Kescenovitz sees the Early Learning Center garden, which started in 2012, continuing through many generations. "We plan to continue gardening," she said. The Early Learning Center is one of several early childhood programs at the Kettle Moraine YMCA. The Discovery Center (for infants to two-year-olds) and Our Savior's Childcare Center (an off-site YMCA site for infants to five-year-olds) also have early childhood gardens.