ECE Professional Development Through Partnerships in Utah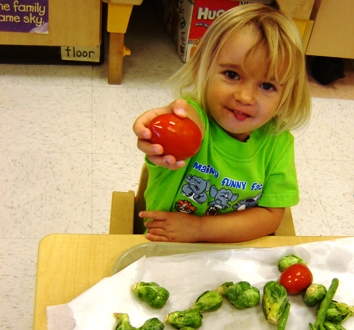 In 2009 the Utah Department of Health (UDOH) recognized a need to pursue efforts for healthier early care and education (ECE) facilities. At the time, collaboration around obesity prevention in ECE was lacking, and UDOH reached out to potential partners. UDOH formed an advisory committee consisting of state and local partners to help guide the development and planning of a pilot program called Targeting Obesity in Preschools and Child Care Settings (TOP Star). This program is an ECE professional development training and TA program designed to help child care providers improve their nutrition and physical activity environments.
Working closely with three local health departments (LHDs) and the Office of Child Care, UDOH adapted five Nutrition and Physical Activity Self-Assessment for Child Care trainings and a training on breastfeeding from other state health departments. The modules focus on understanding the obesity epidemic, nutrition, physical activity, breastfeeding, personal health and wellness of the child care providers, and engaging with families to help encourage healthier behaviors. In addition, modules focus on helping child care providers implement best practices. Upon completion of the TOP Star training program, providers receive professional development credits from the Utah Child Care Professional Development Institute (CCPDI). Child care providers can also receive TA from a LHD TOP Star consultant to improve nutrition and physical activity policies and practices in their ECE facility. When a facility demonstrates that nutrition, physical activity, screen time, and breastfeeding improvements are made, they are eligible to receive a TOP Star endorsement from their local health department and recognition on the UDOH website.
The Office of Child Care worked with CCPDI to have the TOP Star training approved for 10 hours of professional development credits. Initially the modules were taught only face-to-face by TOP Star consultants from 3 LHDs, but in 2012, UDOH developed an online version of the modules that child care providers can access independently. Overall the TOP Star program has been well-received with more than 500 providers earning professional development credit for the training since 2011. In addition, nearly 50 ECE facilities across the state currently have an active TOP Star endorsement.