Enhancing Healthy Practices at Babies 2 Kids Learning Center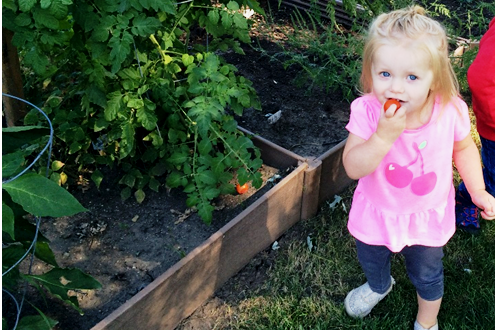 Tracy Ehlert from Babies 2 Kids Learning Center in Iowa is working hard to meet Let's Move! Child Care's (LMCC) five healthy goals. She is also working to complete the Child and Adult Care Food Program's (CACFP) Take ACTION Challenge and is having fun while doing so. Ms. Ehlert says LMCC and the CACFP's Take ACTION Challenge helped her dive into the health and nutrition aspect of her program and re-evaluate it. Participating in LMCC and the CACFP Challenge helped her enhance the healthy practices in her child care home, and she feels much more enthusiasm from her students about health and nutrition.
Ms. Ehlert also has a produce garden. She uses it to teach children about where food comes from, and children eat fruits and vegetables from the garden. She makes water available at all times, serves very little juice (usually only at breakfast time) and follows CACFP's guidelines on milk (Infant Guidelines and Children Guidelines ). No soda, sports drinks or anything other than milk, water or 100% fruit juice are served to children in her care.
Through LMCC and the CACFP Challenge, Ms. Ehlert has learned about many more resources than she knew were out there, such as MyPlate Emergent Readers, Make Today a Try Day, Grow It-Try It-Like It , and Color Me Healthy.
» Check out more healthy resources for the family child care home.