Family Style Dining Toolkit Now Available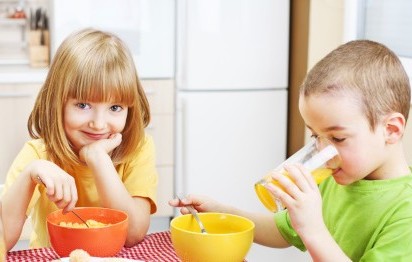 What is Family Style Dining?
Family Style Dining is a meal service approach that early care and education programs implement to address childhood obesity prevention and support children in developmentally appropriate mealtime experiences. All foods that meet the meal pattern requirement are placed on the table where children and adults sit together to share the meal. Children are encouraged to serve themselves independently or with adults' help.
Who Benefits from Family Style Dining?
Family Style Dining benefits children, families, ECE professionals, and ECE programs.
What are the intentions of the Family Style Dining Guide?
This guide and toolkit brings together current information on implementing Family Style Dining, and offers a step-by-step approach in preparing the children, adults, families and the program. Programs wishing to start Family Style Dining as well as those looking to advance their dining practices may find this guide helpful. Implementing Family Style Dining may present challenges, however having the right tools, creating smaller achievable steps and assessing your progress may ease your entry into this highly regarded practice. This guide is intended to:
Deepen understanding of the Family Style Dining Approach
Strengthen current care-teaching practices
Introduce new strategies and concepts
Address barriers to conducting Family Style Dining
Be a road map for successful implementation
How Should this Guide be Used?
Each of the three sections, Program Ready, Adult Ready and Child Ready, details specific concepts, practices and responsibilities that address the unique needs of everyone involved in serving meals and snacks family style. A reader can start with the section that aligns to his/her roles and is encouraged to read all of the sections to get the "big picture" of Family Style Dining. Check out the Resources section for materials and websites that support the program, adults and children in serving meals family style. It is important that ECE programs follow their licensing rules and regulations before implementing practices outlined in this guide.