Family Style Dining Reduces Waste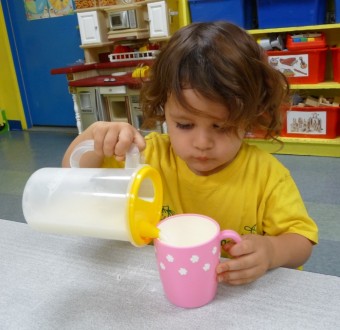 Martha Maqueira, Director of My First School in California, faced a huge challenge at her program: All of their meals were being served pre-portioned. As a result, some children were throwing food away and some children were not able to get second helpings.
To tackle the issue and ensure that each child was eating the amount of food they desired, My First School began instituting family style dining at lunch. The center purchased age-appropriate bowls and utensils for children to serve themselves the portion-sizes they desired. As a result, less food was wasted and each child was eating the appropriate amount of food. The change has been so popular with children and staff that the center is now engaging in family style dining during all their meals.
Leadership Team Lead Teacher, Angela An, shared, "Children have been eating more and drinking more milk because they like serving themselves. They have learned table manners as well. The teacher guides them but they are also teaching each other."