ECELC Training Helps Enhance Program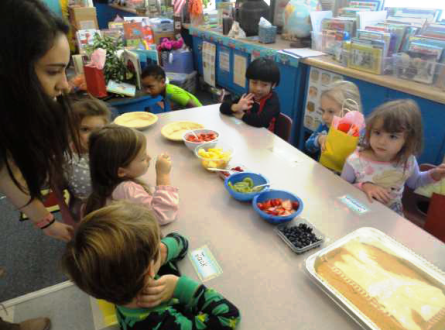 Luz Padilla, owner of Children's Learning Paradise in Virginia Beach, had a desire to make changes in her childcare program. Because of her participation in the National Early Care and Education Collaborative (ECELC) project trainings, she began to come up with new ways to enhance the program. She acknowledged that the first step was to revise the Parent Handbook. The Parent Handbook is a way to inform and enforce rules and policies of the program. Padilla kicked off changes in the program by implementing policies that included eliminating juices from being served in the program and eliminating sweets and other unhealthy items during celebrations. Parents were provided with newsletters regularly to increase communication about changes in the center.
On October 31, 2014, the program held a Harvest Party. During this time they asked children to bring in their own fresh fruit pies. The children loved the fruit pies they made. Children worked with their parents to cook the pie and share with other children. The Harvest Party turned out to be a huge success! "We very much appreciate this learning opportunity not just for our kids but also for ourselves and for educating our families," said Padilla.