Collaboration Key to Healthier ECE Environments in Maryland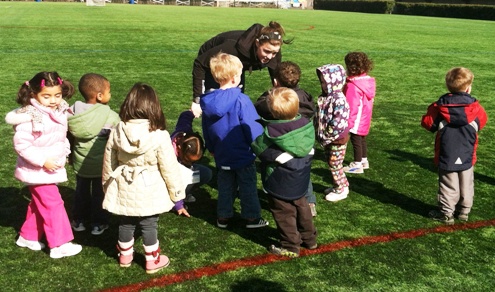 The Maryland Department of Health and Mental Hygiene (DHMH) has worked on statewide efforts to support healthier environments in the early care and education (ECE) setting. DHMH has improved nutrition, physical activity, screen time and breastfeeding policies in ECE environments through collaboration with the Maryland State Department of Education (MSDE)-—the agency responsible for child care licensing in Maryland-—and other partners such as the University of Maryland Extension (UME) and the Maryland Family Network. Over the years, collaboration with these stakeholders has allowed Maryland to align state efforts across multiple agencies to support the Caring for Our Children national ECE obesity prevention standards.
Recently MSDE's Office of Child Care proposed changes to Maryland's child care licensing regulations for screen time, nutrition and food served, affecting nearly 220,000 children who attend licensed ECE facilities. DHMH, in collaboration with the MSDE Office of Child Care, supported embedding the Let's Move! Child Care (LMCC) Checklist Quiz and the LMCC Action Plan into the state's quality rating and improvement system (QRIS), Maryland EXCELS, as an additional achievement for health and wellness.
To help foster sustainable improvements to ECE facilities, DHMH created professional development and TA support for ECE providers throughout the state. The statewide dissemination of LMCC goals and best practices was spearheaded by DHMH's partnership with UME. DHMH and UME developed standardized training materials for use by local health departments and extension educators at statewide and community trainings. As a result, more than 1,000 child care providers have completed in-person or online training on LMCC goals and best practices.
Read more about Maryland and other successful state efforts »