Children's Council Hosts Healthy Apple Awards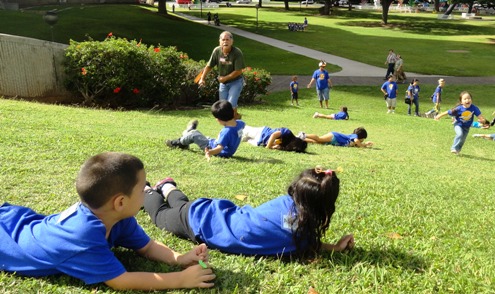 Children's Council of San Francisco is a Resource and Referral Agency that serves family child care providers and supports their efforts to create child care environments that prioritize nutrition and physical activity for children in their care. As Child and Adult Care Food Program (CACFP) sponsors, Children's Council serves 285 family child care homes in San Francisco and San Mateo Counties in California. This sponsorship encourages sites to serve nutritious meals that meet or exceed USDA meal pattern requirements through financial incentives, support relationships with staff, provides engaging annual trainings, and regularly distributes nutrition resources and recipes. Children's Council also offers free nutrition and cooking classes to all CACFP providers, introducing healthy cooking techniques and education around topics like reading food labels, eating seasonally, incorporating whole grains and getting picky eaters to try new things.
Children's Council also coordinates a large, free community health and wellness fair called Growing Healthy Kids, which includes free local produce, family-friendly and health-inspired raffle prizes, 41  local resource agencies tabling, free yoga and Zumba classes, medical and dental screenings, and healthy food tastings. Growing Healthy Kids is also host to the San Francisco Healthy Apple Awards. Healthy Apple is a program honoring child care providers providing excellent nutrition and physical activity in child care environments. The program was started in 2013, using University of North Carolina's NAP SACC self-assessment tool and supports providers' efforts to meet nutrition and physical activity evidence-based best practices through technical assistance, coaching, shared resources, workshops and public acknowledgement for their efforts. Healthy Apple Awards are open to centers, family child care homes, and unlicensed caregivers. While Children's Council leads this program,  Healthy Apple Awards is a collaborative citywide partnership with the Department of Public Health, other Resource and Referral Agencies, Head Start, WIC, and First 5.
Children's Council offers workshops through the Healthy Apple Program to all providers about policy development and how to use those policies as a tool to open up dialogue with families about the importance of nutrition and daily movement and activities that parents can replicate at home.
Children's Council also partners with a local non-profit that leads Cooking Matters free nutrition and cooking classes. They host a series for child care providers and one for parents and youth.
Children's Council of San Francisco is a winner of the 2015 Let's Move! Child Care Recognition event at the 2015 National CACFP (Child and Adult Care Food Program) Sponsor Association Conference.