Healthy Changes to Gutierrez Child Care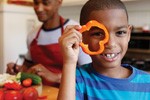 In the past, Angelica Gutierrez of Gutierrez Family Child Care made efforts to improving nutrition and increasing physical activity in her program. Since participating in the National Early Care and Education Learning Collaborative (ECELC) program in 2016, the program has eliminated harmful foods such as fried foods, foods with high sodium content, and sugary drinks, including juice. In addition to making changes to the menu, Gutierrez Family Child Care has added new physical activity routines to their daily schedule.
One of the hardest parts of making healthy changes has been getting families to continue the healthy habits at home. To help with this, Angelica held family meetings to talk about the changes she has made in her program, attain support of the families, and encourage them to make healthy changes at home.
Angelica thanks ECELC for their support: "The parents and children love the changes and we will continue to do more."