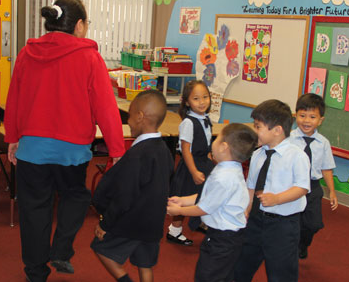 After participating in the National Early Care and Education Learning Collaborative (ECELC), Michele Dixon, Director of A Gr8t Beginning Academy in Carson, California, realized changes needed to happen. She and her staff began educating children on the "ABC's of a Healthy Me" and incorporated healthy lessons in everyday activities.
Staff began implementing health and nutrition into all aspects of their lesson plans. Children engaged in hands-on activities and participated in discussions of their favorite foods. In a classroom activity, staff discussed the number 100. They used this time to discuss the importance of drinking 100% juice. A few weeks after this lesson, a child stood up and said, "Look, I am drinking 100% juice!"
Staff also began implementing structured physical activity into their weekly lesson plans as well. Every Friday afternoon, the entire center participates in "P.E. Fun Time". The idea behind each Friday's "P.E. Fun Time" is to incorporate activities for the "mind, body, and soul." The staff began developing their own physical activities such as "pumpkin bowling" and "streamer races." Ms. Dixon organized each week's physical activities in a "grab and go" lesson plan. The activities, directions and list of supplies are placed in a yellow folder that staff can easily access.
When asked to describe her experience, Ms. Dixon said it has been "a supportive, positive change. As a director of an ECE center, there is not really a support group or place to go and get ideas." She shares that the ECELC program has provided her with resources, support and a place to make connections with others working in the ECE field.