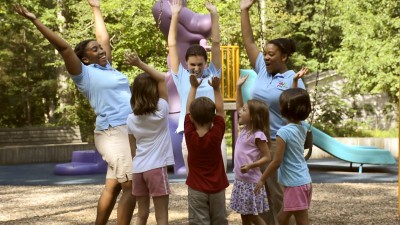 Child care centers throughout North Carolina are showing their commitment to the goals outlined in Let's Move! Child Care by joining in Healthy Me, Healthy We. Healthy Me, Healthy We is a social marketing intervention funded by the National Institute of Health. This program is unique in that it engages preschoolers in the two settings where they spend the majority of their time—child care and home.
The program starts with a promise that everyone signs—parents, child care providers and preschoolers—to "play smart," "eat smart," and "rest the tech." Through this partnership with parents and child care providers, children learn lessons and complete activities about nutrition and physical activity both at home and at child care. When teachers complete an activity with kids in the classroom, kids are then sent home with an "Our Turn" trading card that lets parents know it's now their turn to do an activity on the same topic with their kids. The program spans the school year with four units that last six weeks each. In the classrooms, a big poster with illustrated unit messages is displayed as a constant reminder of the unit's lessons. At home, parents receive a family magazine for each unit supporting those messages. This magazine supplies families with fun activities that reinforce the classroom activities, several nutritious recipes, and tips for adding these healthy habits into their regular family routines.
The program kicks off October 2015 in 23 child care centers across North Carolina and runs through April 2016. Before the program begins, child care providers attend a training session to gain an overview of the program. They receive guidance on using program materials and teaching food activities and active games. A resource binder walks through each program goal and lays out detailed descriptions of the classroom activities. Each center is then provided with all of the tools they need to carry out the lessons and activities. Early feedback from a pilot test indicate that this "turnkey" element is one of the program's many strengths. As it stands, Healthy Me, Healthy We is poised to set North Carolina preschoolers on a path of lifelong health.