Kerri's Kidsville: Taking Steps to Healthy Success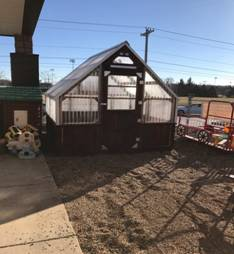 Kerri Newton, Kerri's Kidsville Program Director from Springfield, Missouri, had the desire to provide healthy and enjoyable meals at her center. In 2013, she decided to attend the National Early Care and Education Learning Collaborative (ECELC): Taking Steps to Healthy Success training to learn more about how to make healthy choices for her kids. While participating in the learning collaborative, she applied and received a grant to build planter boxes along the outside wall of her center.  Each spring, she would take two to three children at a time to plant various fruits and vegetables.  They also planted a few herbs for the cook to use in dishes.  The children watered the garden every day at recess and picked the fruits and vegetables when they were ripe.
Towards the end of the training, Kerri applied for another grant.  She saw the importance of educating her kids on how to make good food choices by engaging them in food preparation. She used the second grant to renovate outdated food preparation and storage space at her center. She also had the counters and drawers adjusted to accommodate the children so they can help wash and prepare the fruits and vegetables from the garden.
A few years later, Kerri applied for a Farm to School grant program which included education materials for the children and staff at her center. The grant money helped pay for the educational supplies and other lucrative equipment that involved healthy eating.  Kerry already had a garden so she decided to put the money towards a new greenhouse. Kerri is an exemplary leader who has taken the initiative to find and write grants so her center can eat better, save money and have fun.
Kerri Newton proudly states, "It all started with the National Early Care and Early Learning Collaborative, and we will continue take steps to healthy success!"