Kountry Kid Care in Iowa Reduces Screen Time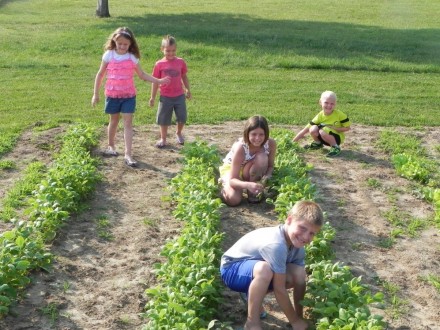 Children, families and staff of Kountry Kids Care in Iowa began an initiative in April 2013 to reduce television time during child care hours and at home.
This initiative was part of a reduced TV time grant opportunity through the Iowa Department of Public Health and Shelby County Public Health. Grant funding was used to supply the center and families with activities that could be used on a daily basis to promote mental and physical activity. Some of the items purchased were: board games, a croquet set, balls, a roller racer, stacking games, jump ropes, garden tools and activity cards. These items can be checked out by parents for use during family night activities instead of TV viewing.
The goals of the grant included:
Completion and implementation of a center-based television viewing policy
Pre- and Post-Grant parent surveys to assess home television viewing practices
Optional parent contracts to eliminate screen time on "No TV Tuesdays" at home
Provision of alternate activities that promotes physical or mental activity
Nutrition Activities that promote healthy food choices
The last goal of this initiative was to plant a garden for the school-aged and preschool children. The garden has produced lettuce, pumpkins, melons, peppers, corn and green beans.  Children participate in the care of the garden and look forward to eating the fruits and vegetables of their labor as the garden begins to produce.
By the end of the six week initiative, the director and staff decided to keep the "No TV/Technology Tuesday" initiative in place at the center.  Several parents plan on keeping one night a week free of TV viewing. The parents found that everyone in the family benefits from less TV time. Results of the surveys indicated that this initiative helped reduce the amount of television viewed at home and promoted more physical activity. Children challenged parents to stay off their computers and cell phones and spend more time with them. Children have thoroughly enjoyed the alternate activities and have learned that life goes on just fine without television.