LadyBugHugs is HOP'N Towards Health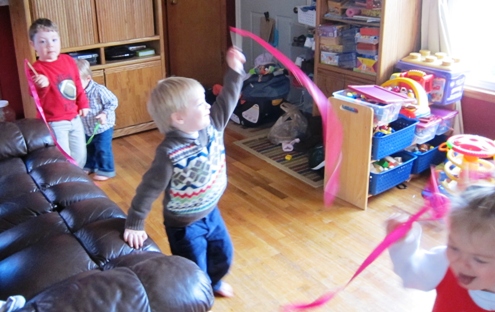 LadyBugsHugs, a Child and Adult Care Food Program (CACFP) licensed home child care provider, took advantage of a local training opportunity from Kansas Child Care Training Opportunities (KCCTO), who offered a class through Kansas State University. The program, called HOP'N ("Healthy Opportunity for Physical Activities and Nutrition"), taught about healthful eating and physical activity. LadyBugHugs now follows the program, and takes it up a notch and only uses whole grain or whole wheat breads/pastas, serves no juice, and maximizes fruits and vegetables.
In the spring of 2015, LoriAnn, the child care provider, started a garden. The kids got excited by choosing the seeds, and they enjoy the care and harvest of it in summer and fall. They love to help as much as possible with preparing the meals. Having them participate helps them become more committed to trying new items. LoriAnn wants the children to be comfortable with food and the meal time process, not only as something that is important to do, but also something that is enjoyable. She always eats with the children and makes sure they are learning manners as well as socializing.
When LadyBugsHugs first opened, kids used to watch 30 minutes of TV a day. After learning more about screen time, the practice was changed it to 90 minutes maximum a week. The kids play outside every day with an hour and half in the morning and then another hour and half in the afternoon. She has several toys such as tricycles, ropes, hula hoops and stepping stones, and she ensures there is running room and a pathway for free play. When they are not able to get outside, she introduces dancing and kids' yoga to wake the bodies in the morning. Due to space constraints in a home, she is creative by using indoor tunnels and cardboard boxes to crawl through, which are a favorite.
Family engagement is key at LadyBugHugs. She supports breastfeeding for those that do so and also encourages parents to join at lunch time. Four events are held annually for family engagement. She has parent/teacher conferences once a year, a socializing event (last year it was a picnic at the local park), a learning event (last year a professional came to speak about conscious discipline), and the fourth event is a community event where the parents volunteer for a purpose (last year it was assisting to pull weeds and trim bushes at an elderly neighbor's home).
LadyBugsHugs is a winner of the 2015 Let's Move! Child Care Recognition event at the 2015 National CACFP (Child and Adult Care Food Program) Sponsor Association Conference.