From Fast Food to Prepped Food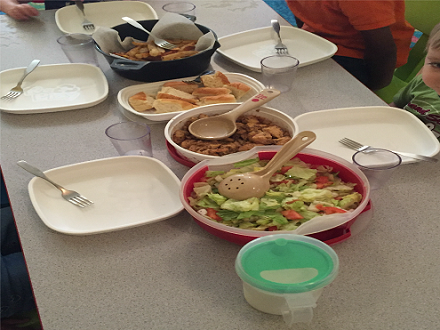 As a former dual military couple, April Jarrett and her husband understand why the fast food industry is growing in popularity. "It can be time-consuming trying to prepare a meal as soon as you get home from work," stated April, owner of Little Friends Family Child Care Home in Virginia. By participating in the National Early Care and Education Learning Collaborative (ECELC), April not only learned about healthy food choices, but received valuable tips on how to improve her food preparation time.
April learned helpful ways to prepare healthy meals ahead of time as there was limited time during the day to prepare meals while caring for the children. April also learned how to include more cooking activities for her children and that cooking involves the use of children's motor skills when stirring ingredients together and pouring them out.
The children enjoy making nutritious meals such as English muffin pizzas and often share their experiences with their parents. April enthusiastically expressed, "I'm very glad I had the opportunity to participate in ECELC. My participation helped me realize how important it is to limit processed foods. In addition, it has made me look differently at what I serve my own family. Overall, my participation has led to a healthier lifestyle for everyone."