Michelle Obama Featured on Cooking Light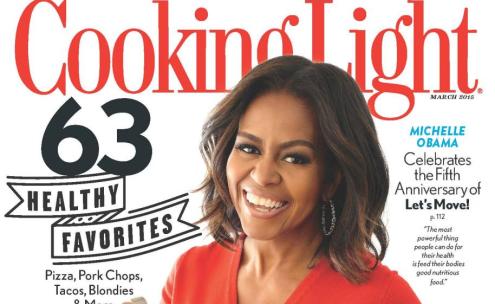 The March 2015 edition of Cooking Light magazine focuses on families preparing healthy and affordable meals. In celebration of the 5th anniversary of Let's Move!, Michelle Obama is featured on the cover. She is the first person in the magazine's 28-year history to appear on the cover. In this special edition, Michelle Obama sat down to talk with Cooking Light about her personal experiences regarding cooking and family meals and how that led to her work focusing on nutrition when she came to the White House.
Michelle Obama shared some of the challenges she faced as a busy working mom trying to keep her family's health in check. Recognizing that change needed to happen following a visit to her girls' pediatrician, Mrs. Obama turned to cooking and began preparing two more meals at home each week.
Michelle Obama shared fond memories of sitting down to the dinner table with her parents and brother growing up and how important family meal time always was in their home. And it's a tradition the Obamas try to incorporate into their lives even with their family's busy schedule while living at the White House.
Read more about Michelle Obama and how Let's Move! got started. »