A Total Turn Around at Gallier Home Child Care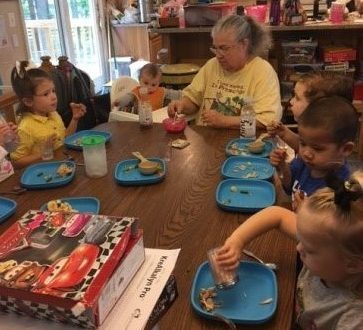 " I don't think my kids are going to eat any of these healthy foods!"
"I can't send them home hungry!"
"I have 12 kids in my center; this is going to be way too hard!"
These are some of the concerns expressed by Susan, owner of Gallier Home Child Care Center in Virginia, when she first began participating in the National Early Care and Education Learning Collaborative (ECELC) in 2016. At that time, the kids were served fruit juice, chicken nuggets, fish sticks and sugary desserts. In addition, the children at Gallier often exercised to kid videos, which involved more watching than moving. Susan believed the kids and her staff would not be able to change their lifestyle habits.
As Susan spent her time participating in ECELC, the Gallier Home Child Care Center completely transformed into a healthier program. Currently, the children only drink water and milk. Susan was completely shocked to hear that the kids don't even miss the taste of juice. She incorporated family-style dining during meals and snack time and serves primarily healthy desserts like frozen bananas and date brownies to the children. During one of the ECELC learning sessions, a guest gardener also inspired Susan to create a garden and plant fruits and vegetables with the children in her center. "Parents are messaging me saying the kids are asking for home-cooked meals and eating things they've never even tried before," she exclaimed.
Susan began incorporating healthy lifestyles into her own home and lost over 40lbs since the beginning of the ECELC program.