Penfield Center Committed to Nutrition and Families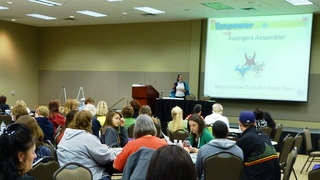 Penfield Children's Center in Milwaukee, Wisconsin, is committed to nutrition, both in the center and at the children's homes. Penfield offers a lactation room for mothers who are nursing and has a NAEYC-approved breastfeeding program that teaches moms to properly store and prepare breast milk. Penfield also has nursing staff on-site who can provide resources and assistance for children with special dietary needs.
Penfield provided an eight-week class during 2013 and 2014 called the Expanded Food and Nutrition Education Program. The 90-minute class taught parents how to prepare healthy meals at home, introduced parents to the revised food pyramid and gave advice on how to stretch their FoodShare benefits. The program was taught by a certified nutritionist from the University of Wisconsin-Extension and was attended by more than 30 families each year. There are plans to offer the class again soon.
Penfield maintains an organic garden on premises that is used as a teaching tool to demonstrate gardening techniques to the children. Fruits and vegetables from the garden are given to children at the center so they can take them home and share with their families. In addition, child care staff regularly meet with parents and primary care givers to ensure children attending Penfield are receiving proper nutrition at home. The center employs Parent Mentors, who can assist families in finding community resources, food banks and other services that will further benefit parents and their children.
Penfield is a winner of the 2015 Let's Move! Child Care Recognition event at the 2015 National Child and Adult Care Food Program (CACFP) Sponsor Association Conference.