Linking Learning to Physical Activity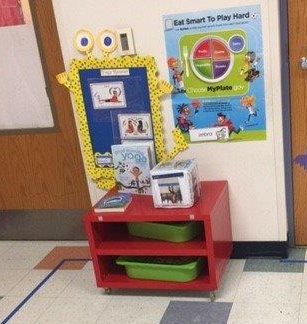 Heidi Butterfield is a teacher for pre-kindergarten students at Cheney Elementary in Florida, and she desired to increase physical activity in her classroom. To achieve this goal, Heidi participated in the National Early Care and Education Learning Collaborative program (ECELC) in 2016-2017. Bad weather and lack of shade were a few of the many challenges Heidi faced with having only an outdoor space for her students. By participating in the ECELC program, Heidi knew she needed to create space indoors, especially with the current center policy requiring indoor recess days.
Heidi claims that a light bulb went on in her brain when she saw the connection between healthy eating and physical activity with academic improvement during the ECELC program. Heidi continued to learn more about best practices for physical activity and the associated learning benefits during the learning sessions and technical assistance visits. Heidi then began to collect physical activity equipment and materials in connection with the ECELC curriculum.
The classroom now has an indoor learning center. These activities involve linking literacy and physical activity using books, activity cubes, geometric shapes, bean bags and much more. Although it's a small space, it's a big hit with the children because they have a range of activities to choose from. All the activities are aligned with the curriculum and the Florida Early Learning and Developmental Standards for Four-Year-Olds.
Heidi recognized immediate benefits in her classroom such as increased attention spans, increased self-management skills, and independent learning. Heidi shared this information with her families and sent physical activity tips home with the children.
Heidi says, "I will never teach without a physical activity space again."