Tiny Tots Makes Healthy Changes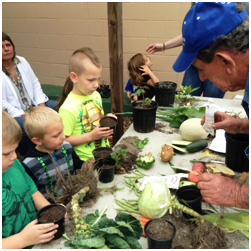 Since participating in the National Early Care and Education Learning Collaboratives Project (ECELC), Kelly Baloun, Director of Tiny Tots of Apopka in Florida, has made many changes to help children in her center reach healthy goals. Baloun and her staff created a healthy welcome center for parents, prospective parents and visitors with flavored water made with fresh fruit, healthy living resources and soft music to set the tone for the center. They also started a walking club for teachers, family members and parents that meets at least once a week to exercise together. The center also started to cater meals to families in partnership with Second Harvest Food Bank.
Tiny Tots of Apopka also integrated more physical activity into many of their activities. They hosted a marathon race day and added physical activity into their alphabet lessons. For the letter "H", instead of their traditional hat day celebration, they took the children on a hike in their hats. For the letter "O", they celebrated with a mini-Olympics.
Instead of making traditional pizzas in class, students made their own healthy fruit pizzas. A local farmer also taught children about growing produce. He brought vegetables and fruits for the children to taste and helped them plant a garden at their school.
"The entire center staff has become more aware of the impact we have on young children's health. Teachers, students and their families have all been affected by the changes the center has made," Baloun adds.