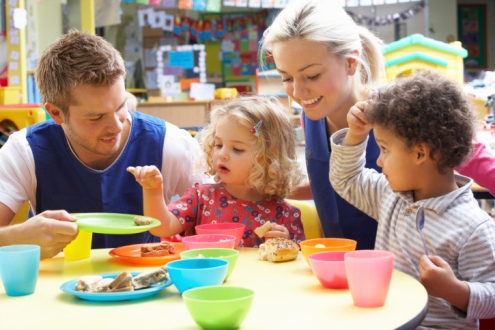 Family style dining is an integral part of the daily routine at Joint Base Langley-Eustis (JBLE) Child Development Program in Virginia.  Children as young as one start to participate in family style dining in their individual classrooms.  Staff and children sit at child-sized tables sharing in a relaxed mealtime experience that allows children, based on their individual development, to take part in the entire meal from setting the table to cleaning up.
Food service staff plays an important role in family style dining by developing menus in accordance with the United States Department of Agriculture Child and Adult Care Food Program (CACFP) and U.S. Air Force standards for nutrition and safety. Meals and snacks are prepared to ensure meal pattern components are met. Based on children's development and age,  food is sized appropriately to prevent choking hazards.  They also consider cultural and regional diversity as well as children's dietary restrictions and food allergies.
After preparing the food, individual wheeled carts that can easily be moved in and out of the classrooms are organized with food items, distributed among serving bowls, as well as two deep plastic tubs and tableware.   The tubs are used at the end of the meal, one for children to scrape uneaten food and the other to hold used tableware.
Before implementing family style dining, you will need to think about:
Setting the Stage – Through play, children take on a variety of roles and can learn to prepare meals, set the table, share, cooperate and clean up. Picture placemats can help children remember where items belong for a place setting.  Water and sand play props for pouring and scooping also develop children's eye-hand coordination which is transferred to mealtime.
Transitioning – Remember, teaching children to wash their hands prior to setting the table or eating is an integral part of preparing for mealtime. A good idea is to keep a list of daily helpers to allow all children to have a turn setting the table.
Organization – A cart with the food, tableware and tubs rolled into the room next to the serving area prevents staff from getting up and down during mealtime.  Also have paper towels close by to guide and assist children with wiping up spills that may occur.
Patience and Time – When children are first learning to pour and serve themselves, it is important that staff consider children's development.  Children will need to practice and need encouragement and guidance before they are able to serve and pass serving bowls. Use spills, which are expected, as teachable moments by remaining calm, which will help children remain calm, and guide and allow children to assist in the cleaning process.
Implementing family style dining will foster children's:
Social/Emotional Development – Children learn how to be responsible for themselves as well as others by following rules and routines such as passing food items.  They are also developing independence and self-direction.
Physical Development – Fine motor skills are developed as they use utensils to serve and eat as well as pitchers to pour.  Their eye-hand coordination benefits from these simple tasks as they learn to control the small muscles in their hands.
Language Development – Language and literacy skills are developed as they engage in conversations with staff and other children. Staff can use this time to talk with children about activities and important events going on in their lives, about the healthy foods being introduced, and classroom happenings or plans.
Cognitive Development – Children's problem-solving, reasoning, decision-making and understanding are developed by learning amounts, sizes, textures, numbers, counting, position of food items and tableware.
With daily repetition and consistency children will master family style dining.