Using a Train-the-Trainer Approach in Minnesota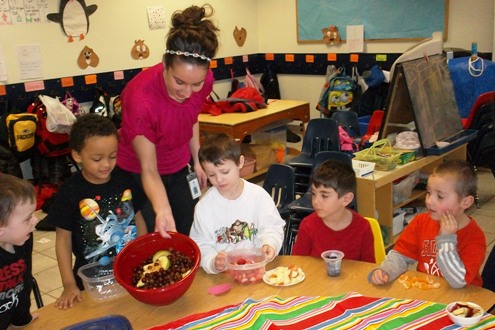 Minnesota Department of Health (MDH) has focused extensively on training trainers to provide training and follow-up technical assistance (TA) to early care and education (ECE) providers in their state. MDH chose to focus on this two-step approach because state health department staff discovered that ECE provider trainings alone were not enough to help ECE providers apply the concepts they were taught. The additional TA provided by MDH helps providers apply information they learned to carry out changes in their ECE facility and helps address implementation challenges.
Through the Statewide Health Improvement Program (SHIP), MDH funds local health departments to train and coach ECE providers to adopt best practices and policies related to healthy eating, physical activity, and support for breastfeeding in their programs. A key partner in this work is the state Child Care Resource & Referral Agency (CCR&R), which is responsible for coordinating Trainings of Trainers (TOTs) for trainers who have been approved by the Minnesota Center for Professional Development.
During the initial years of the program, MDH developed and tested a low-cost facility level training, the Learning About Nutrition through Activities (LANA) Curriculum. LANA was used for nutrition trainings, and Head Start's "I Am Moving, I Am Learning" approach was used for the physical activity trainings. Since then, in cooperation with CCR&R, MDH has been instrumental in coordinating trainings for both local health department professionals and other early childhood trainers for nutrition, physical activity and breastfeeding support.
In addition to training ECE providers, trainers are required to offer additional TA to providers to help them change their practices and policies. TA helps providers to complete environmental assessments, create action plans, overcome barriers they encounter as they try to put new practices into action, write their new practices into policies to be shared with parents, and reassess their practices and policies to see quality improvement.
Follow-up TA and coaching has further enabled providers to implement changes in their practices that improve the health and well-being of the children in their care. In 2014 alone, 586 child care sites participated in varying combinations of trainings, 456 ECE sites participated in nutrition trainings, 460 participated in physical activity trainings and 431 participated in breastfeeding trainings. All were offered TA after receiving each training. Numbers continue to grow as new providers attend trainings and participating providers are encouraged to attend trainings in other behavior areas.
In the past six years, all 87 counties and several tribes in Minnesota have received SHIP funding to work in ECE facilities. In addition, there has been an increasing emphasis on health equity. This includes encouragement of grantees to work with providers in family child care homes because many low-income children in Minnesota are served in family child care settings. As a result of this emphasis on health equity more than 59% of ECE facilities that participated in the SHIP process served low-income families (2014 data).
Read more about Minnesota and other successful state efforts »