Training Staff and Educating Families in Colorado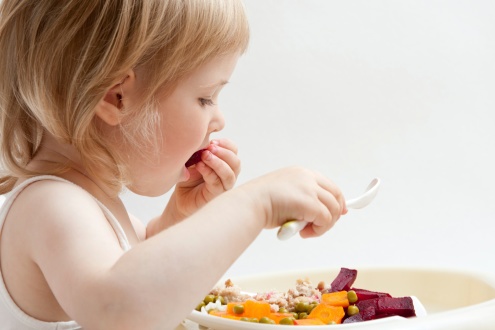 The Southside Children's Center in Pueblo, Colorado is located within one of the city's public housing apartment buildings. Southside Children's Center cares for and educates 37 children who live in the same building as well as 50 children who live in other housing authority apartment buildings. With close proximity to children's homes and a community environment already established, Center Director Josette Urioste knew she wanted to involve families in her work to offer more nutritious meals.
Urioste partnered with Qualistar Colorado, a statewide nonprofit that promotes high-quality early care and education, to train staff, educate families and integrate fresh vegetables and healthier ingredients into menus. Qualistar's Healthy Child Care Colorado program had recently received a grant from the Colorado Health Foundation to help early care and education programs promote healthy habits and reduce childhood obesity. Qualistar connected Urioste to free Cooking Matters training for center staff and a separate training for families, and also provided free I Am Moving, I Am Learning physical activity training for teachers. A Qualistar team member also coached Urioste and provided support and resources throughout the entire process.
"I knew the children we were serving weren't eating well at home," Urioste said. "When I learned about the trainings available, I had a new vision for what the center could do to help children and to get their families involved."
Twelve families participated in Cooking Matters training and learned more about nutrition, meal planning and how to grocery shop while keeping costs low. "We serve young families, so I appreciated the opportunity to show them how they can eat better at home," Urioste explained. "And, you know what? Our families say the kids ask for healthy food at home now!"
Southside Children's Center received a $5,000 grant from Qualistar after the center completed its trainings. Urioste used the grant money to purchase garden beds, tools and a garden shed. In the garden, children plant seeds, take care of the growing vegetables and harvest them to be used in meals. Urioste also purchased a dishwasher, which improved sanitation and gave cooks more time to prepare healthy meals.
"Every day," Urioste added, "the staff is talking with the children more about healthy food and healthy choices, and we're integrating nutrition and physical activity into everything we do. We've found that the children go home and talk with their families about [healthy choices] too."
Tips For Success
Involve children. When the children plant and maintain the garden, they are excited to use those vegetables when they make food together.
Encourage families. Initially, families at the center were not eager to participate in a nutrition class. Urioste took the time to encourage families to get involved, and she hosted the trainings in a convenient location and time—at the center, after pick-up.
Train new staff. Urioste looks for training opportunities to ensure that new staff members can also participate in Cooking Matters and I Am Moving, I Am Learning.