USDA Leader Visits Nemours Head Start Project in Florida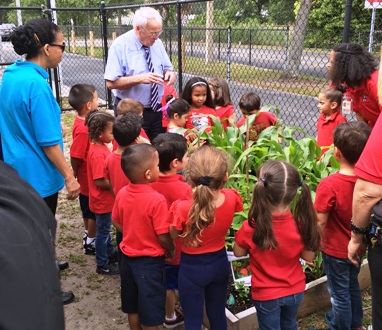 Kevin W. Concannon, Under Secretary for Food, Nutrition, and Consumer Services, United States Department of Agriculture (USDA) visits Taft Head Start Center in Orlando, Florida.
Taft Head Start is one of the 20 Orange County Head Start sites participating in Nemours Early Care Education Learning Collaborative (ECELC). The ECELC, led by Nemours Children's Health System and funded by the Centers for Disease Control and Prevention, promotes healthy environments, policies, and practices in early care and education settings to address childhood obesity. Participating child care, Head Start, Early Head Start, and pre-kindergarten programs serving young children across nine states work to improve policies and practices around healthy eating, physical activity, screen time, and breastfeeding support.
Through knowledge gained participating in the ECELC, each Head Start site in Orange County installed a permanent garden. With assistance from Nemours, each site will obtain seasonal seeds from the Orange County Extension Service Office for two planting seasons. Additionally, a Master Gardener will be matched with each site to encourage ongoing gardening and fresh vegetable planting. These partnerships will have a sustained impact on over 1,500 children today and future pre-schoolers, who will learn firsthand about gardening and the importance of good nutrition.
Under Secretary Concannon gave the keynote address at the National Child and Adult Care Food Program's 30th annual conference, in which he discussed new efforts to strengthen nutrition and healthy habits for children. He heard about the success of gardens in local Head Start programs as a result of the ECELC and wanted to see this great work in-person. This project and visit were unique collaborations between Nemours Children's Health System, the CDC, Head Start Programs, the USDA, and CACFP.