Play Safe Outside in Winter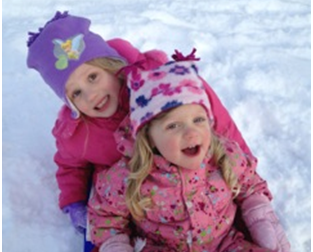 The season of snowflakes, mittens, and winter boots is upon us. Playing outside is good for children's bodies, behavior, and brains, even when it's cold outside. Here are some tips from the Institute of Child Nutrition about playing safely during the winter months:
Ensure children are dressed properly. Children will need proper clothes for playing in colder temperatures. For example, children may need hats, scarves, mittens, boots, winter coats, snow pants, and a change of clothes.
Use safe equipment. Some play equipment may be unsafe for the children in your care during the winter months. Additionally, the equipment may be covered with snow or ice. Therefore, plan activities that allow safe play, such as building snow people or painting the snow with food coloring.
Always move. In cold temperatures, both you and the children should constantly move and avoid standing still. Standing still in cold temperatures can lead to frostbite and hypothermia.
Talk to your local or state regulatory agency. Each state has different rules and regulations as it relates to child care operations. Additionally, northern states with colder temperatures will have different rules than southern states with warmer temperatures. Contact your local or state regulatory agency to determine any procedures you must follow when participating in outdoor play.
For more information, check out Is it Safe to Play Outdoors in Winter?