Teaching Adolescent Parents to Cook Healthy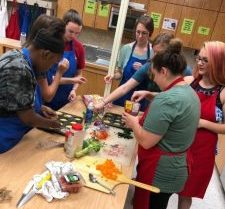 Conway Cradle Care located in Conway, Arkansas, serves adolescent parents who are continuing their high school educations. Childcare is provided to enable teen parents to attend school, as well as a mentoring program to teach these young parents valuable parenting and life skills. Some of the young parents they serve were unfamiliar with choosing and/or preparing healthy meals and snacks for their child. As a result, Kelsey Weaver, the director of Cradle Care wanted to empower her teen parents to feel confident in the kitchen while making healthy choices on a budget.
While participating in the ECELC program in 2017, Kelsey and her staff learned ways to create a healthy eating environment. Once Kelsey and her team understood that children mimic the eating practices of the adults around them, they desired to educate their teen parents on how to create a healthy eating environment at home.
Conway Cradle Care began collaborating with the Arkansas Hunger Relief Alliance Program to implement the Cooking Matters Program with their young parents. Through the six-series course, teen parents learned how to identify healthy food items and how to cook a healthy meal. In addition, the teen parents enjoyed a shopping experience at a local grocery store, which helped them learn how to shop for healthy foods on a budget. Lastly, the parents learned how to pick vegetables from a garden with guidance on how to use the produce in their recipes. Each class concluded with each parent taking home ingredients to prepare the meals taught during the class.
Many parents discussed how their families were impressed with their new cooking skills, and how they enjoyed the healthy dishes that were prepared.