Breastfeeding in the Military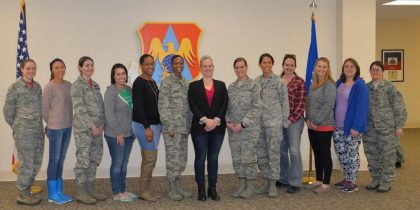 Robyn Roche-Paull, founder of the Breastfeeding in Combat Boots nonprofit organization, partnered with Mom2Mom to speak about breastfeeding in the military.
Roche-Paull has received numerous awards for her book, Breastfeeding in Combat Boots: A Survival Guide to Breastfeeding Successfully While Serving in the Military. She holds Bachelor's degrees in both Nursing and Maternal Child Health and has spent the last decade supporting and educating breastfeeding mothers in uniform.
The Navy veteran said her personal experience inspired her to advocate for other military moms. "Breastfeeding maintains mission and unit readiness," said Roche-Paull. "It is just as important for the father and the mom as well. It reduces time off work that is taken to care for a sick child and boosts unit retention. When parents feel supported, they are more likely to re-enlist."
The presentation covered breastfeeding military regulations, resources, case studies and practices. Roche-Paull shared advice on the basics of pumping, and provided specific details on how to manage in the field and through deployments. Those in attendance discussed challenges they have faced breastfeeding in uniform and shared advice on different products and techniques.
Read more about breastfeeding while serving in the military »