Green Smoothies at Liyu Home Child Care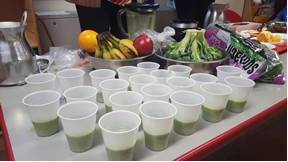 When Liyuwork Belaineh signed up for the National Early Care and Education Learning Collaborative (ECELC) she was hopeful, yet unconvinced, her home child care center had to make adjustments since they were already an active and healthy center. Liyu quickly discovered there were many things she could do to improve her center's habits including eliminating screen time, expanding the concept of family style dining, and establishing a breastfeeding area for nursing mothers.
As a native from Ethiopia, food has always been an important part of displaying hospitality to friends and guests. When Liyu's ECELC trainer came to visit, the trainer was invited to join the kids in drinking what they called "Minion Juice", a green smoothie that everyone in her home center starts their morning drinking. Minion Juice is a combination of green leafy veggies, fruits, aloe vera, ginger and filtered water. It is both healthy and delicious. The trainer was so impressed with the taste of this juice and the children's enthusiasm she invited her co-trainer to join in tasting Liyu's breakfast juice. The Minion juice was such a hit that Liyu was invited to demonstrate how to create the smoothie at the following ECELC Learning Session. As a result of this demonstration, many of the participants have adopted the smoothie as part of their morning or after-school schedule. Her demonstration was so well received at the Learning Session she was also asked to do another demonstration at Happy Home Childcare Center where 35+ children ages 2-5 tasted and enjoyed the juice.
Liyu continues to incorporate the Minion Juice and other healthy eating practices at her center so the children can enjoy delicious and nutritious meals.
Minion Juice
Ingredients:
Green Vegetables —
Broccoli (1 cup)
Yu choy (2 leaves)
Cilantro (1 tablespoon)
Watercress (1 cup)
Aloe Vera (2" piece)
Kale (1/4 leaf blanched)
Spinach (1 cup)
Fruits —
Avocado (1/2)
Banana (1)
Apple (1/2)
Orange (1/2)
Dates (3 pieces)
Spices —
Ginger (1 teaspoon)
Turmeric (1 teaspoon)
Combine all the ingredients together in a blender and process until smooth.