Learning About Gardening and Healthy Food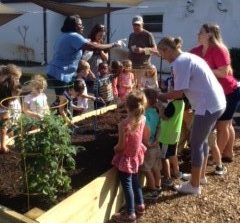 Sandy Varnell, Director for The Learning Tree in Winter Park, Florida, wanted to highlight the importance of a healthy lifestyle to children and families in her center. Sandy decided to take action on this goal when she joined the National Early Care and Education Learning Collaborative (ECELC) program, Taking Steps to Healthy Success.
Sandy's plan after Learning Session One was to provide a space where children, families and staff could work together on a school garden. Once the garden was approved by the school board, everyone got to work. The church and school staff raised money to build a garden bed. Families were invited to help their children plant seeds. When planting day came everyone was there to help. A plan for maintaining the garden was developed with families and staff.
While Sandy and her staff were working on their action plan to create the garden, they also decided to incorporate more opportunities to serve fruits and
vegetables during lunch. The teachers began to integrate healthy eating best practices in their lesson plans and their overall classroom environments as well. Soon after, they developed a goal to promote family style dining.
Sandy says, "Our inspiration is to serve from our garden." Sandy's leadership has brought children, families and staff together in the garden. Now she wants to bring them together at the table to taste the food they grow.