Nutritious Celebrations at Renate Zahn Family Child Care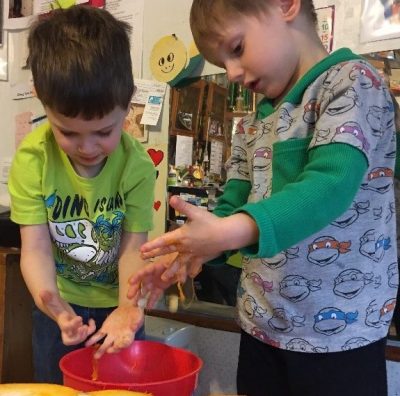 "Food has always been associated with holiday parties and celebrations in my program but it hasn't always been healthy," says Renate Zahn the owner of Renate Zahn Family Child Care Program in St. Louis, Missouri. Zahn discovered that many of the parties in her program included the usual cakes loaded with sugar and topped with tons of icing. Zahn's goal was to incorporate healthy foods during celebrations that would keep the environment healthy and lively.
In 2017, Zahn learned about the National Early Care and Education Learning Collaborative (ECELC) and immediately enrolled in order to receive support in achieving her goal. After participating in several learning sessions, Zahn revised her party menu to include whole-grain crust pizza with vegetables and cheese and a veggie tray loaded with a variety of yummy vegetables, fruits and skim milk. Additionally, birthday treats are now banana bread and vanilla pudding made with skim milk.
The guidance Zahn received in ECELC not only provided an opportunity for her to explore new foods, but also ways to engage children in activities that encourage the use of their five senses while increasing their math, science, social-emotional and language skills. Menu changes have led to significant progress towards a healthier lifestyle for the children and families in her program. Zahn stated, "The families have welcomed healthy celebrations and are looking forward to more surprises to come."