Outdoor Play is Key for Young Children's Health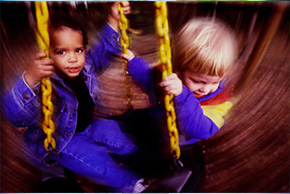 Preschoolers are not experiencing enough outdoor play when not in childcare, new research from the University of Western Australia (UWA) has found.
The research may be of interest to early childhood education and care services in encouraging and providing suggestions for families to engage in outdoor activities at home. The research also highlights the importance for providing a rich and diverse range of outdoor play experiences within early childhood education and care settings.
Researchers clocked the time children spent playing outdoors against a number of factors, including backyard size, outdoor features (grassed or paved areas, trees, gardens), fixed play equipment (climbing structures, playhouses, sandpits, swings, trampolines), and portable play items (balls, flying discs, scooters, etc.).
Lead researcher Associate Professor Hayley Christian, senior research fellow at the UWA's School of Population and Global Health and Telethon Kids Institute, said when not in childcare, children spent little more than an hour a day playing in their backyard.
"The main factor associated with increased play time in the yard was the number of fixed play structures with each additional piece of equipment adding an average of five minutes to a child's daily play time," she said, pointing out that a simple sandpit, swing or cubby house in the backyard are all that are needed to help preschoolers get enough outdoor play time at home.
Author and source: Lyndsie Clark, The Sector