Family Style Dining at Play and Learn Daycare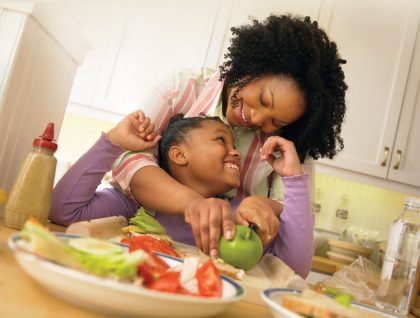 Aisha and Shaheed, the owners of Play and Learn Daycare in Virginia have been providing quality child care in their home for more than 30 years. The families often come back and spend time with them as a testament to the welcoming and nurturing environment they provide in their home. Aisha and Shaheed are lifetime learners — always looking for ways to improve their program, like incorporating family style dining. Therefore, they were both excited to be part of the National Early Care and Education Learning Collaborative (ECELC) in 2016 to continue their learning journey.
They became familiar with family style dining as a philosophy and practice they could incorporate into their program. Prior to the collaborative, the children were seated in either a high chair or age-appropriate seating, and adults served the food. While the foods where healthy and appropriate, the children were not given the opportunity to gain independence by serving themselves.
A family style dining kit was provided through the collaborative, which enabled Aisha and Shaheed to begin seating children at a table with appropriate dining pieces. Through the numerous support services provided through ECELC, Aisha and Shaheed were able to develop new policies and practices that successfully transformed their mealtimes into a true family style environment. The family style dining kit has encouraged the children to make decisions, and build self-help, sharing, and social skills through interactions with each other.