H2O is the Way to Go at Tiffany's Lil Bratz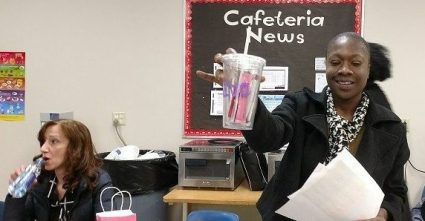 Tiffany Gittens, owner of Tiffany's Lil Bratz in Hopkinsville, Kentucky, participated in the National Early Care and Education Learning Collaborative (ECELC) in Fall 2016. After her participation in ECELC, Tiffany's Lil Bratz has taken big steps to increase water intake and access.
"H2O is the Way to Go" was the theme of her center's campaign. Children learned to say "water" in multiple languages as well as its chemical formula. Parents were provided with information on the benefits of water and the amount of sugar in common kids' beverages. Staff has also taken a lead by role modelling healthy behaviors and only drinking water in front of children in clear containers. The program environment has been modified to include water stations that children can access independently as well.
Parents and families share that the children encourage all family members to make healthy choices and repeat the motto, "H20 is the way to go!"