Healthy Festivities at Mom's Home Care School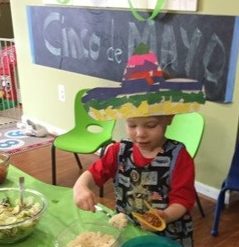 Mom's Home Care School Inc., located in Leesburg, Virginia, was thrilled to be part of the National ECE Learning Collaborative in 2016 and continues to practice healthy eating and healthy celebrations to this day.
After participating the collaborative, the program changed its policy on celebrations to ensure that all parties serve healthy foods. In addition, the foods provided during these celebrations are served family style so children can select what they want to eat from a menu of delicious and nutritious options.
Maria Soldi, the principal of Mom's Home Care School, makes her food from scratch and takes pride in using nutritious ingredients and creative recipes. When families want to bring food in to celebrate a birthday, Maria provides them with nutritious and fun recipes that children love such as Easter Bunnies made out of eggs, Jack-o-lantern snacks made out of oranges, birthday fruit kabobs, cheese stick snowmen and more. She researches and tries new food ideas, learning and growing alongside the children in her program.