Healthy Living at Little Life Academy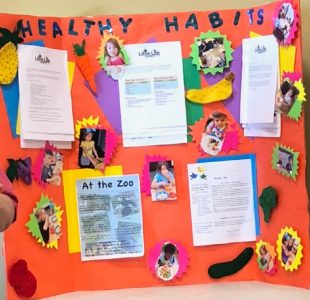 Little Life Academy located in Conway, Arkansas has been working with children for over 13 years. Most recently, the Director of Little Life Academy, Melissa Gabbard, noticed how unhealthy habits from parents and staff affected the children in her program. Since she was unsure how to promote change in her program, Melissa and staff member Nicole decided to participate in the National Early Care and Education Learning Collaborative (ECELC) Program in Fall 2017.
Soon enough, Melissa and Nicole began educating parents and staff on key healthy habits to implement in the program and at home. Each week, Melissa and Nicole added a section in their newsletter about various topics including appropriate serving sizes for toddlers and preschoolers, healthy recipes for kids, creative ways to incorporate exercise, and hidden sugars in drinks and foods.
In addition, Melissa and Nicole gave their staff supplementary training, which involved ways to incorporate fresh fruits and vegetables into daily conversations in their classroom. Little Life Academy will soon have an additional curriculum on healthy habits.
"We feel so blessed to have been given the opportunity to participate in ECELC. It has been so informative and opened our eyes to many ways to educate our students, parents, and staff on healthy habits for life," stated Melissa Gabbard.