Study Asks, Why Do Mothers Stop Breastfeeding?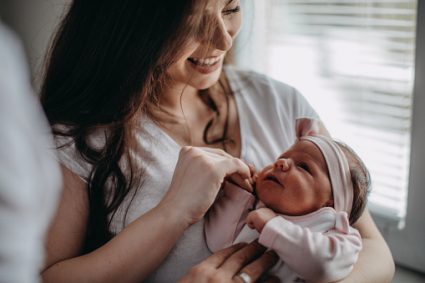 Breastfeeding is associated with a reduced risk of asthma and allergies in infants, but only about half of American mothers breastfeed their children through their first 6 months, according to the Centers for Disease Control and Prevention's breastfeeding report card.
Physical complications, such as insufficient milk supply, can discourage mothers from breastfeeding or expressing breast milk to feed their children. A mother's need to return to work may also present such barriers. A new study reveals a lack of information and support may also factor into a decision to stop breastfeeding, particularly among less educated or low-income mothers.
Led by University of Illinois postdoctoral research associate Carolyn Sutter, researchers asked more than 440 new mothers about their breastfeeding practices, breast pump use and infant feeding methods at six weeks postpartum. More than 70 percent reported breastfeeding exclusively, while 18 percent said they used a combination of breast milk and infant formula.
"I was interested in finding out where mothers get their information and support for engaging in the often-challenging task of breastfeeding, and how we can bolster those resources or eliminate some of the barriers that mothers face," Sutter said in a statement.
The women surveyed were part of a larger ongoing study on child obesity prevention. They were asked if they had received information on breastfeeding and breast pumping or support for these practices from professional sources such as clinicians, educational and informational media, relatives, friends and peers, their workplaces, and child care providers.
Most women in the study were first-time mothers and 97 percent of them said they received support from professionals, like their health care providers, to help them with breastfeeding. "Despite receiving information and support at higher rates, being a first-time parent was associated with decreased odds of breastfeeding," Sutter said.
Source: WTTW