Limit Use of TV, Computers and Mobile Devices
Moderation of screen time (which includes TV, videos, DVDs, computers, tablets, video games and handheld devices) is key for healthy development and staying active. Screen time should be limited to no more than 30 minutes a week while in child care, and no screen time for children under age two.
Benefits of
Reducing Screen Time
Benefits of
Reducing Screen Time
When watching TV or playing video games, kids are likely to be sedentary rather than playing with peers, friends or parents.
Watching TV and playing on devices get in the way of children exploring, playing and interacting with grown-ups and their peers — all of which encourage learning and healthy physical and social development.
As children get older, too much screen time can interfere with being physically active, reading, doing homework, playing with friends and spending time with family.
Children who consistently spend too much time watching TV and using devices are more likely to be obese or overweight.
Best Practices
For Infants and Toddlers
Best Practices
For Infants and Toddlers
Infants should have no screen time, and toddlers should be limited to no more than four times a year, or never.
Not too long ago, parents and child care providers all over the country were buying and showing videos geared entirely toward the infant audience. But now we know that babies and even toddlers (up to two years old) shouldn't get any screen time at all, according to the American Academy of Pediatrics.
Best Practices
for Preschoolers
Best Practices
for Preschoolers
For preschoolers, use screen time sparingly.
No more than 30 minutes per week, or never, while in child care and early education settings
Work with families to ensure no more than two hours per day at home
Provide screen time reduction education to parents at least twice a year
Preschoolers often watch more TV than is recommended at home so it's best to minimize screen time in child care and early education programs.
Whenever young children in your care do get screen time, make sure it's for educational or physical activity purposes only. A lot of educational shows and DVDs today weave developmentally appropriate academic messages or physical activity in seamlessly. Be sure to participate in any activities with the children.
How to Work with Parents to Reduce Screen Time
You can teach parents about reducing screen time by sharing information. You don't have to preach about the do's and don'ts. Occasionally post resources about screen time on your bulletin board or include a little something about it in your monthly or seasonal newsletter. You can also suggest some quality educational shows and videos/DVDs.
Support children's social and physical development by reducing screen time in your child care and early education program.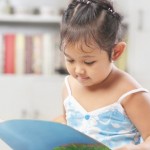 For Parents:
How to Reduce Screen Time
Parents can set a good example by limiting their own TV viewing, smart phone and video game use. An easy rule to follow could be a "no TV" rule during meals. It is also helpful to track screen time with a scheduling sheet.